Description
Wolong Daily Nuts (B) is consists of high protein and 8 kinds of amino acids of humans' needs, a nutrient content in the dried fruit is almost equivalent to a fresh fruit itself, the same weight of dried fruit having 3.5 times of fibers, vitamins and minerals compared to fresh fruit.
Wolong Daily Nuts (B) is suitable for Pregnancy Woman, Diabetics, Weight Loss and Kids because Nuts contain proteins moderately with exception of chestnuts and fats in high quantity.
Why Choose Wolong Daily Nuts (B)?
1) Nutritious of 6 type nuts mixture!
Daily nuts (B)

:Almond 26%(6.5g), walnut kernel 20%(5.0g), cashew 18%(4.5g), blackcurrant 14%(3.5g), dried blueberry 12%(3.0g), hazelnut kernel 10%(2.5g)
2) 25g Scientific Nutritious Ratio
We quantify daily package is 25g, which based on the Asian nuts ADI (acceptable daily intake) (20-30g), it is golden scientific healthy nutritious ratio. People who eat nuts every day will reduce any risk from death. but, nuts are high-calorie foods, too much ADI will lead to fat.
3) Primary Colour & Original Taste
All the products adhere to light baking process to retain the natural flavor and quality. The best raw material, so dare to use
"Original Flavor Baking" !
4) Daily Nuts Suggested Serving Plan
Every breakfast stats with one pack of Daily Nuts in the morning, the beginning of the day's energy, the beginning of the nutrition. One pack a day 25g, full of nutrition, anywhere you go, take it along in the office, trip, sport or study! 6 type nuts reasonable collocation;one pack high quality nuts a day to enjoy the high quality life! Also suggest taking daily nuts with:
Yogurt / Daily nuts
Porridge / Daily nuts
Milk / Daily nuts
Soybean milk / Daily nuts
Breakfast snacks / Daily nuts
Ice cream / Daily nuts
5) Daily Nuts Benefits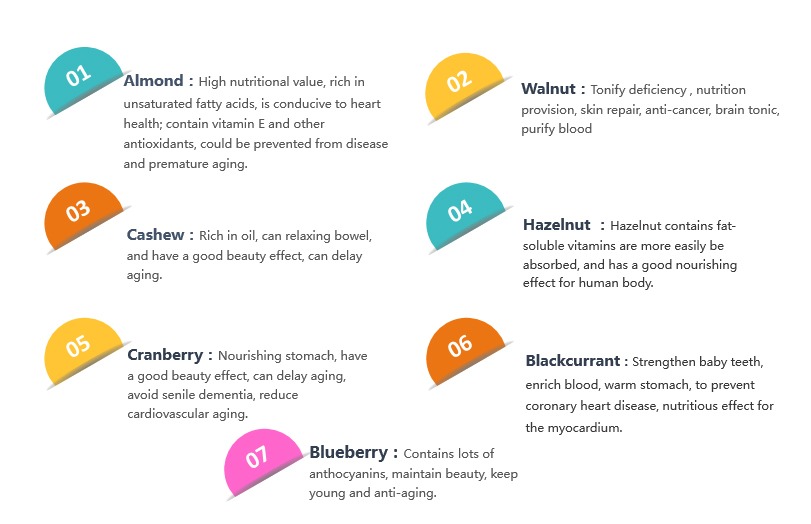 6) Premium Daily Nuts Ingredients